Hands On: Setup Mobile Event App
Step 1: Getting Started
1.1 In OpenWater click Mobile Event Apps on the left side and a new window will open up. (If you do not see this premium feature please contact support.)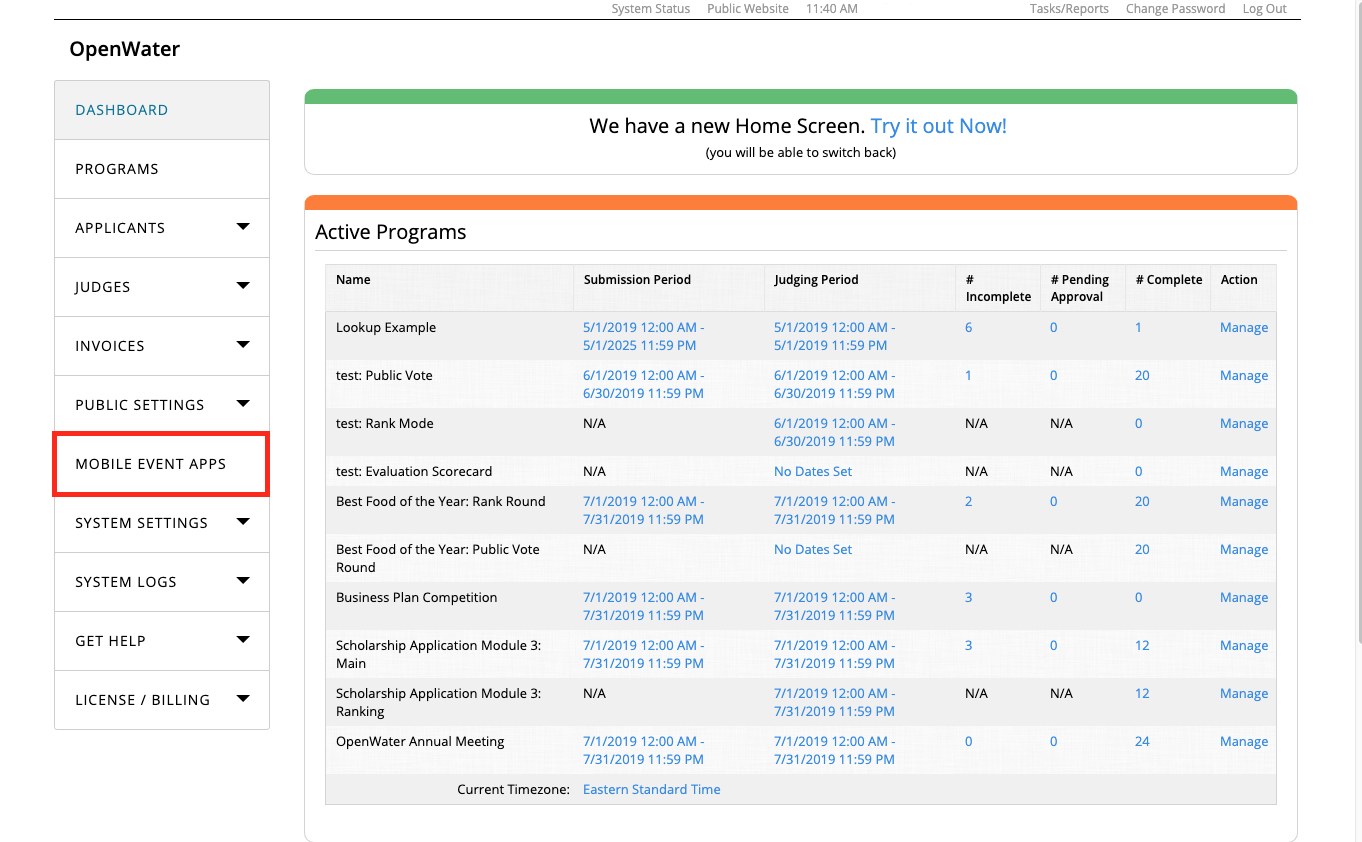 Step 2: Configuring Your Home Screen
2.1 To configure your home screen go to your Mobile Event App dashboard. 
2.2 You will see two options: New Book and Configure Organization. Click on Configure Organization.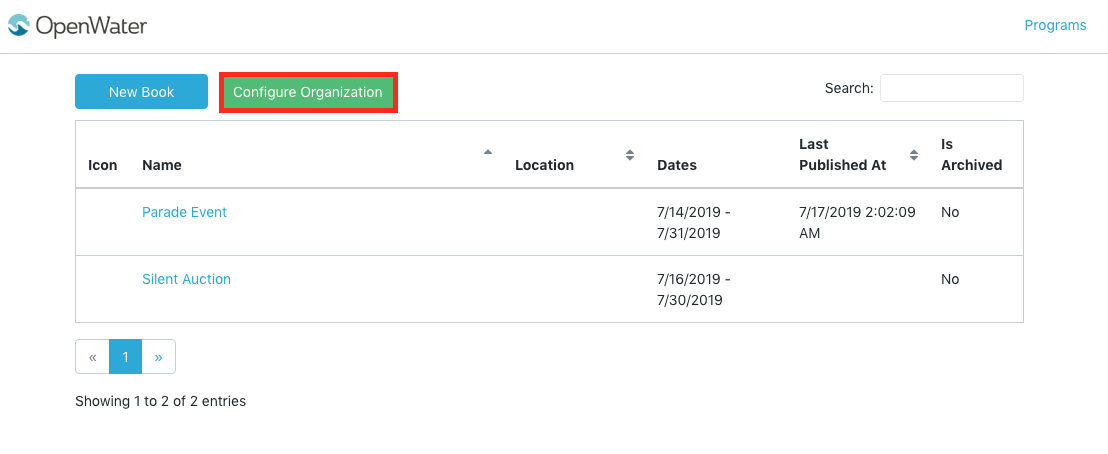 2.3 Give your app a new name, code, icon, banner, and provide home screen text.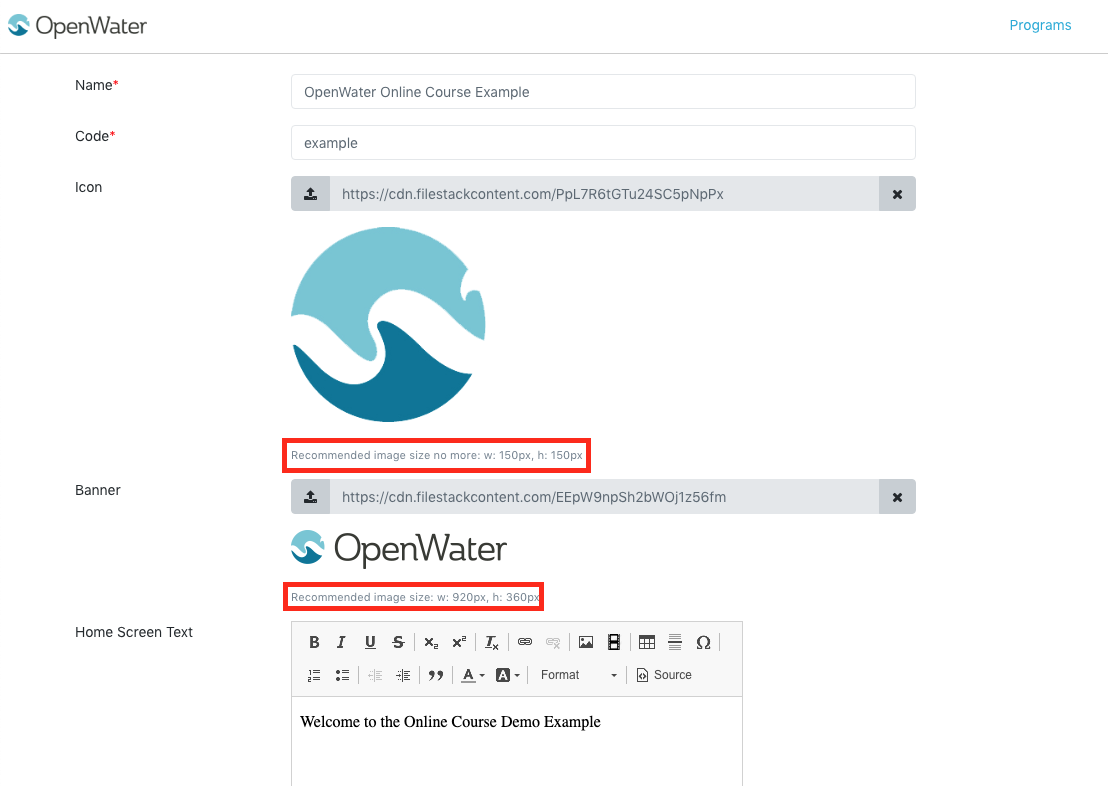 It is important to note that the code is how users will be able to search for your book. Multiple organizations may use the same code. It is recommended to use a more unique code if you want only your book to appear in the search. When uploading an icon and banner please take note of the recommended image sizes provided.
2.4 When you've finished configuring your organization click Save and then click Back to Books.
Step 3: Setting Up Your Event
3.1 To create and setup an event you first need to create a New Book. To create a New Book go to your Mobile Event App dashboard. You will see two options: New Book and Configure Organization. Click on New Book.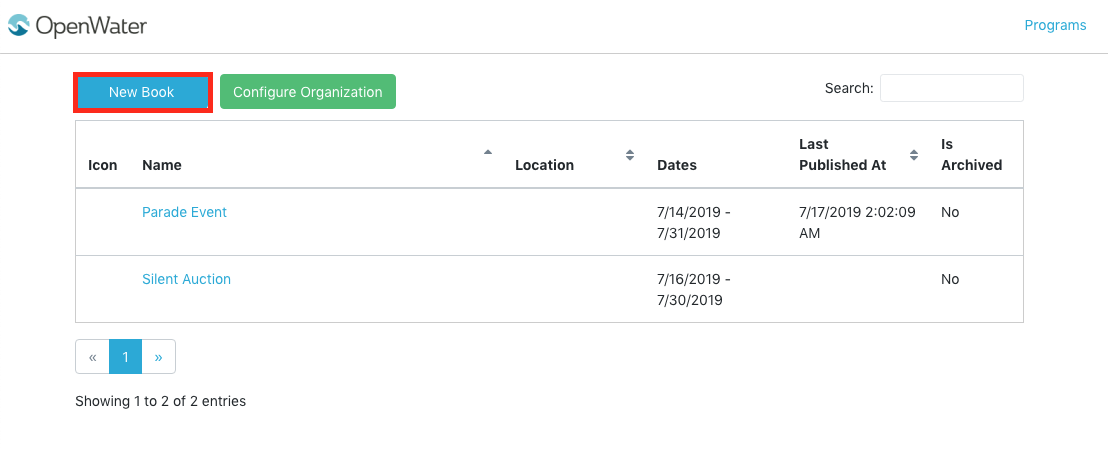 3.2 Now you'll need to give your book a name, start date, and end date. When ready click save.
3.3 After saving you will be redirected to finish the setup by providing the Event Information. 
Here you can update the name, start date, end date, location, and description as needed. You can also select to Display on Home Screen. This will show the event on your home screen list. If your event is in progress you can leave this unchecked to hide it.
Step 4:
How to Preview an App Before Publishing 
4.1 When you want to test your book before it's published you can tap the ProgramBook logo 10 times rapidly.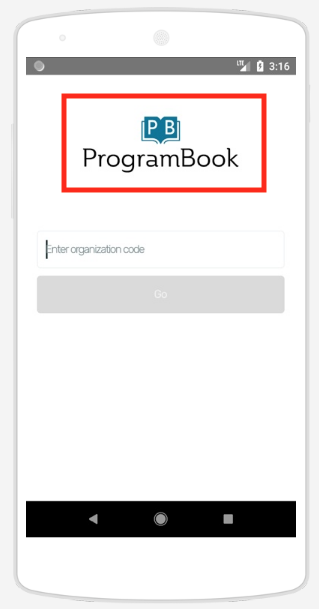 4.2 This will then switch to a hidden page where you can enter in your Book ID and Access Code (from the Event Information section) to download your book without it being published.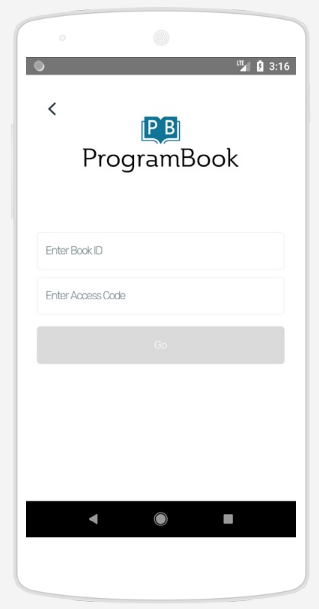 Step 5:
Auto-Configure Your App from OpenWater Data
5.1 In your book settings under setup click on Auto-configure.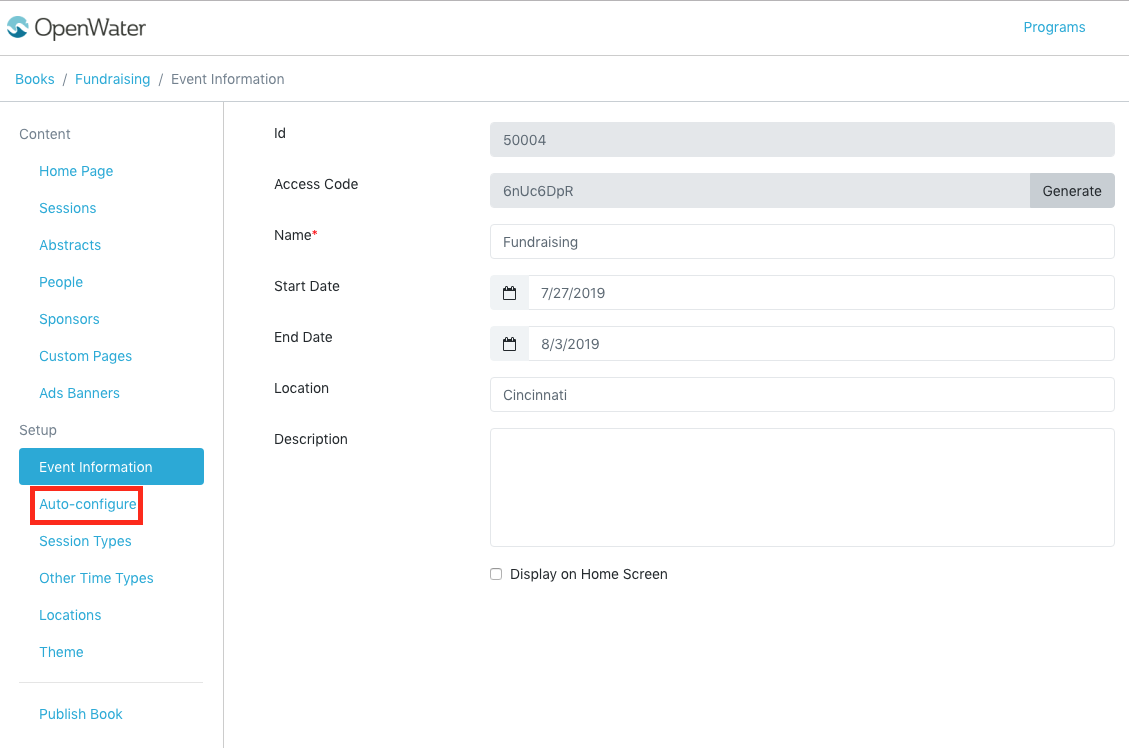 5.2 Here you will see the import is set to default to Disabled. Select From OpenWater.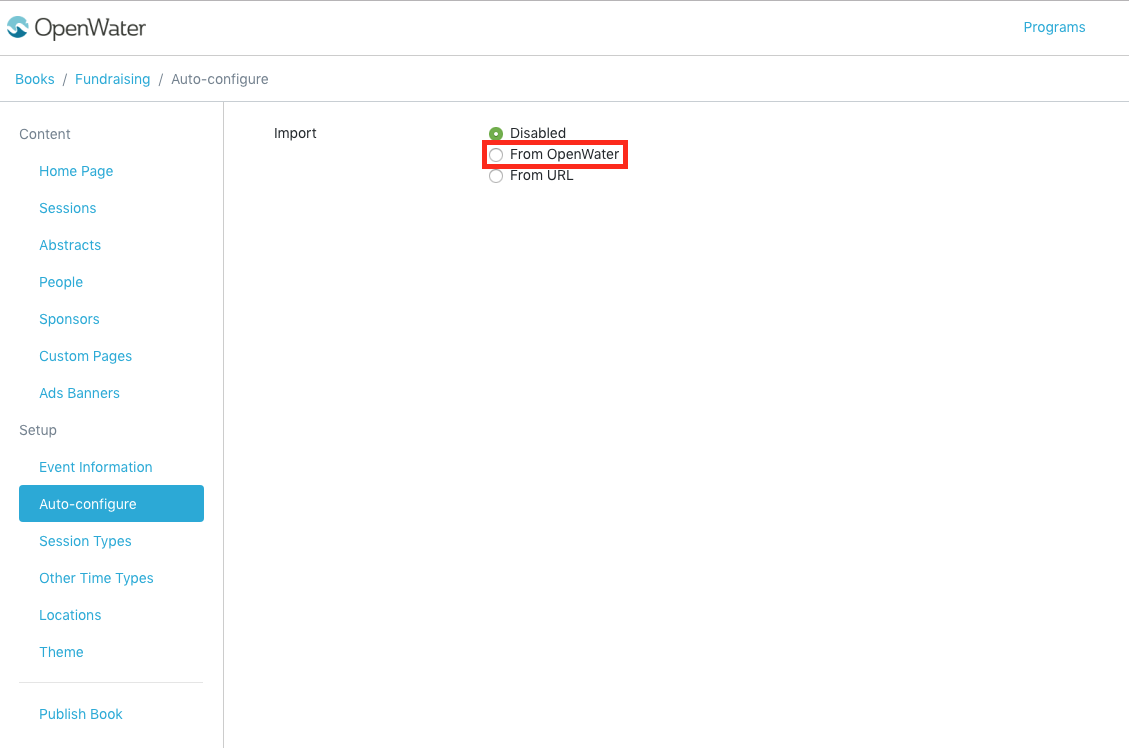 5.3 Now you have a drop down option to select your program from OpenWater.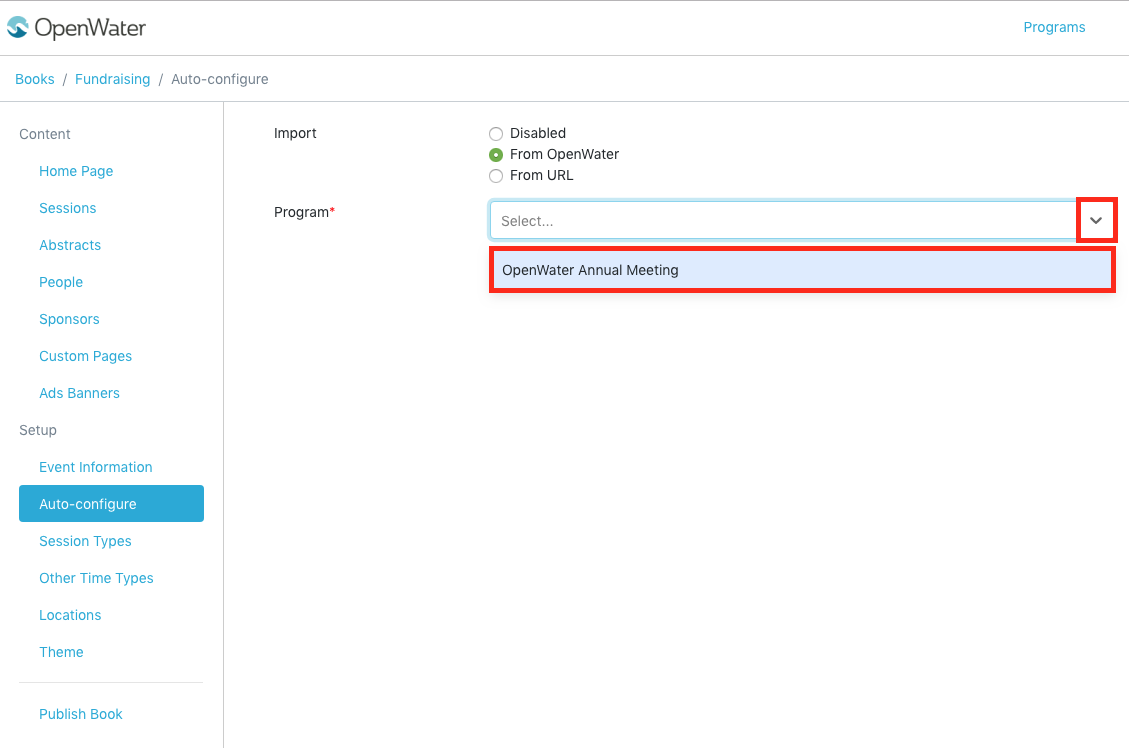 5.4 You can also choose to check the box to Auto update every day. This will keep all your program abstracts, sessions, rooms, and schedule up to date from OpenWater.
Note that you can also import from a URL. It works the same way as importing from OpenWater, but it can pull from a custom feed.
When ready Save your settings and then click Import Now.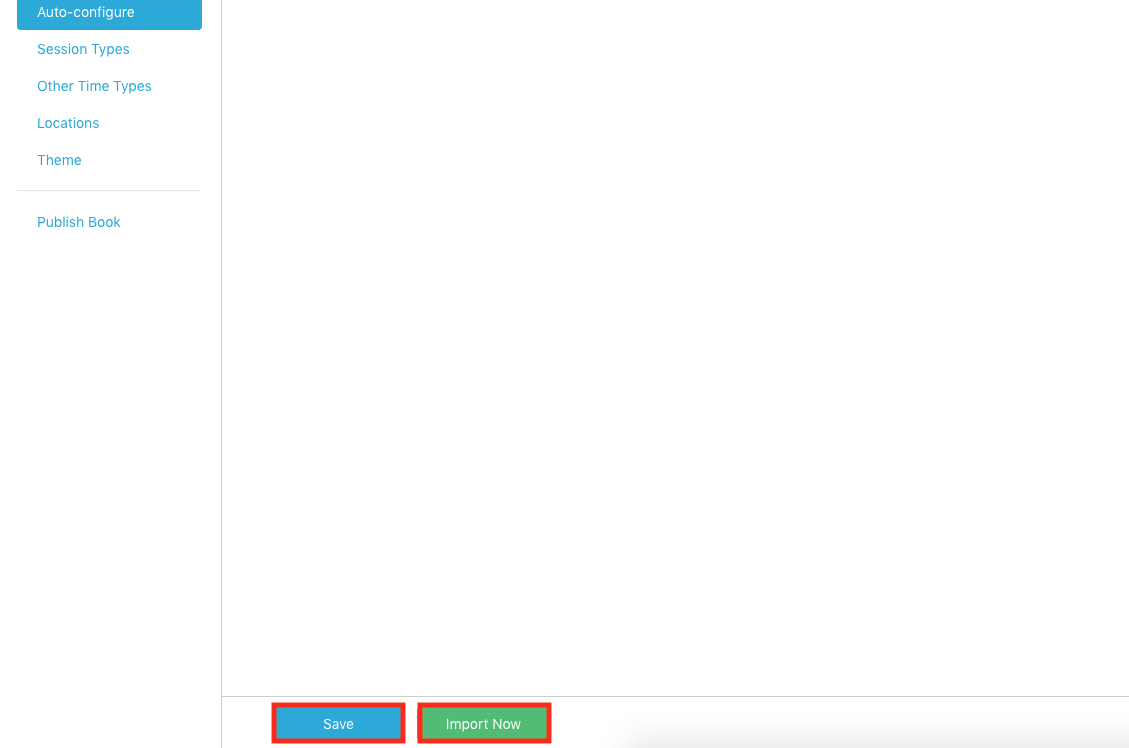 Step 6:
Session Types
6.1 To have session types you first need to enable sessions in your OpenWater program. You can do that by going to Program Settings > Session Settings. Once on this page click to check the box for Enable Sessions.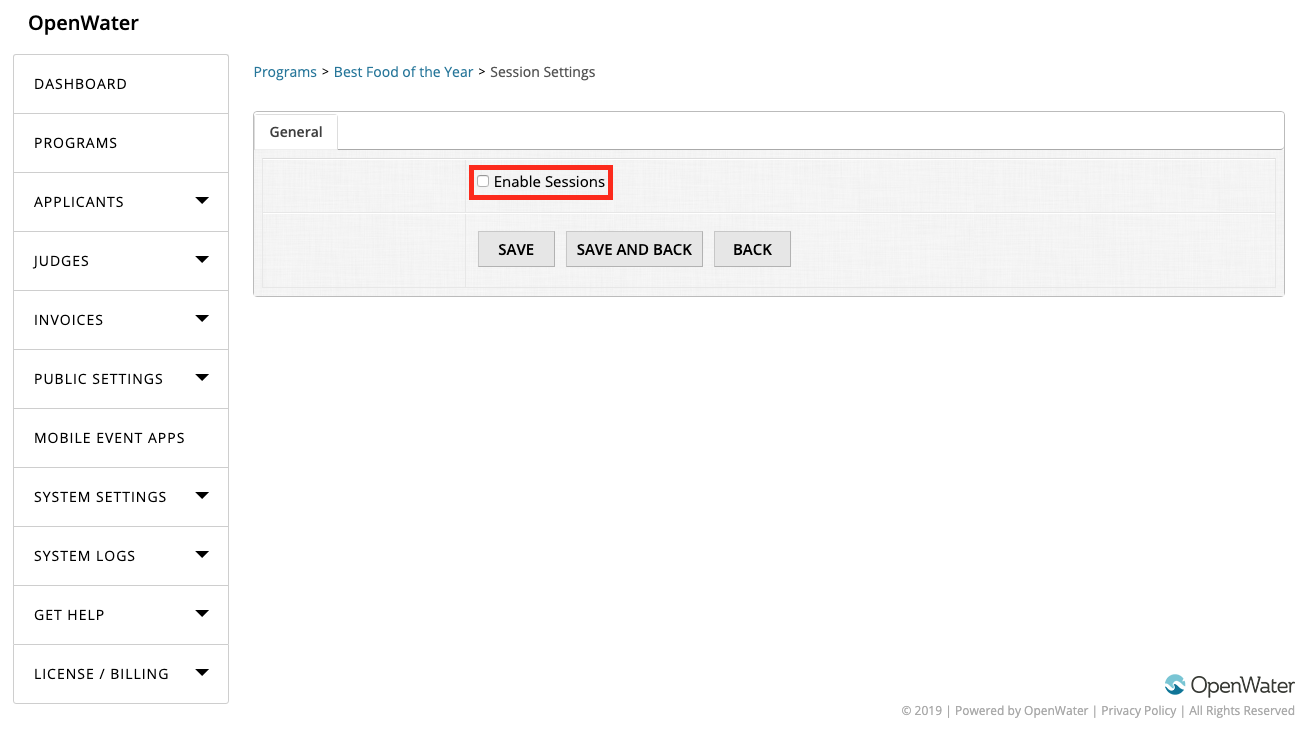 6.2 Now you have additional options to enable general pool and to select which round to show the sessions menu for.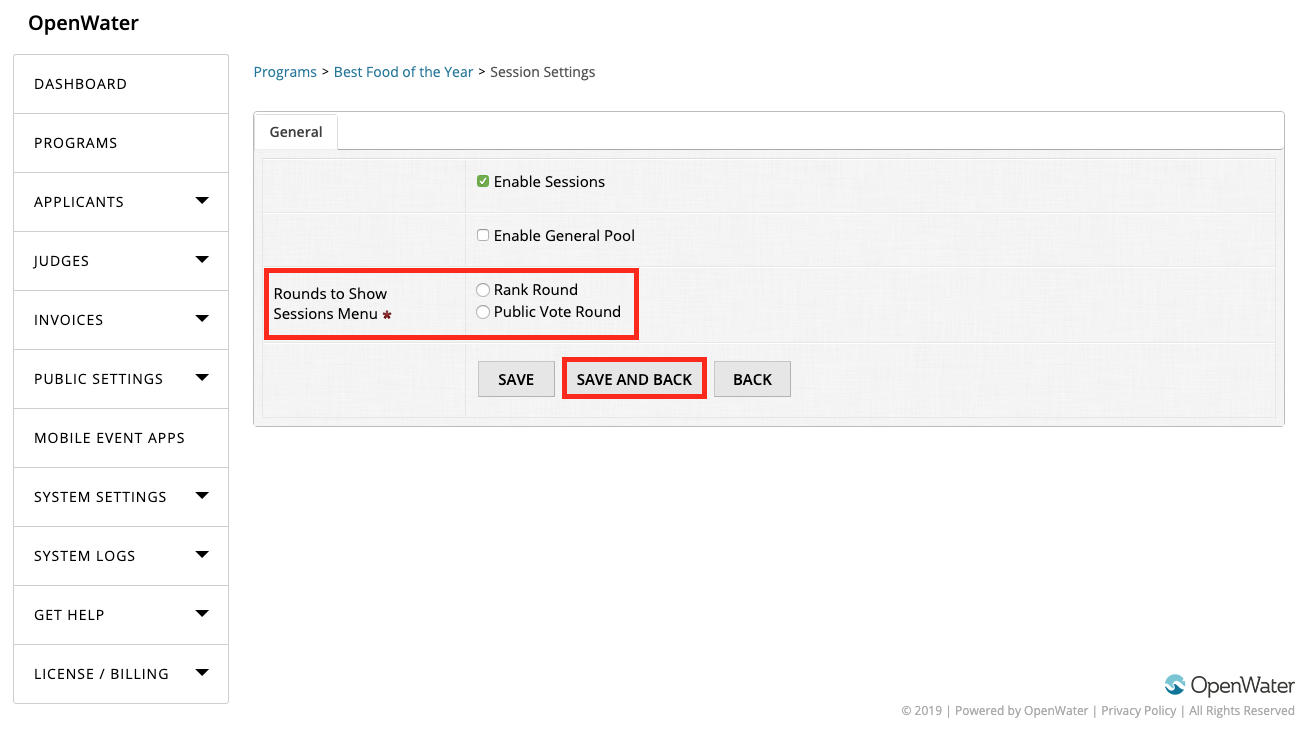 6.3 After making your selections click Save and Back.
In the selected round for your program you now have a Sessions tab where you can add as many sessions necessary.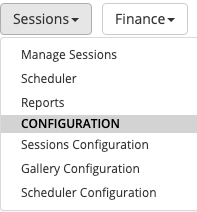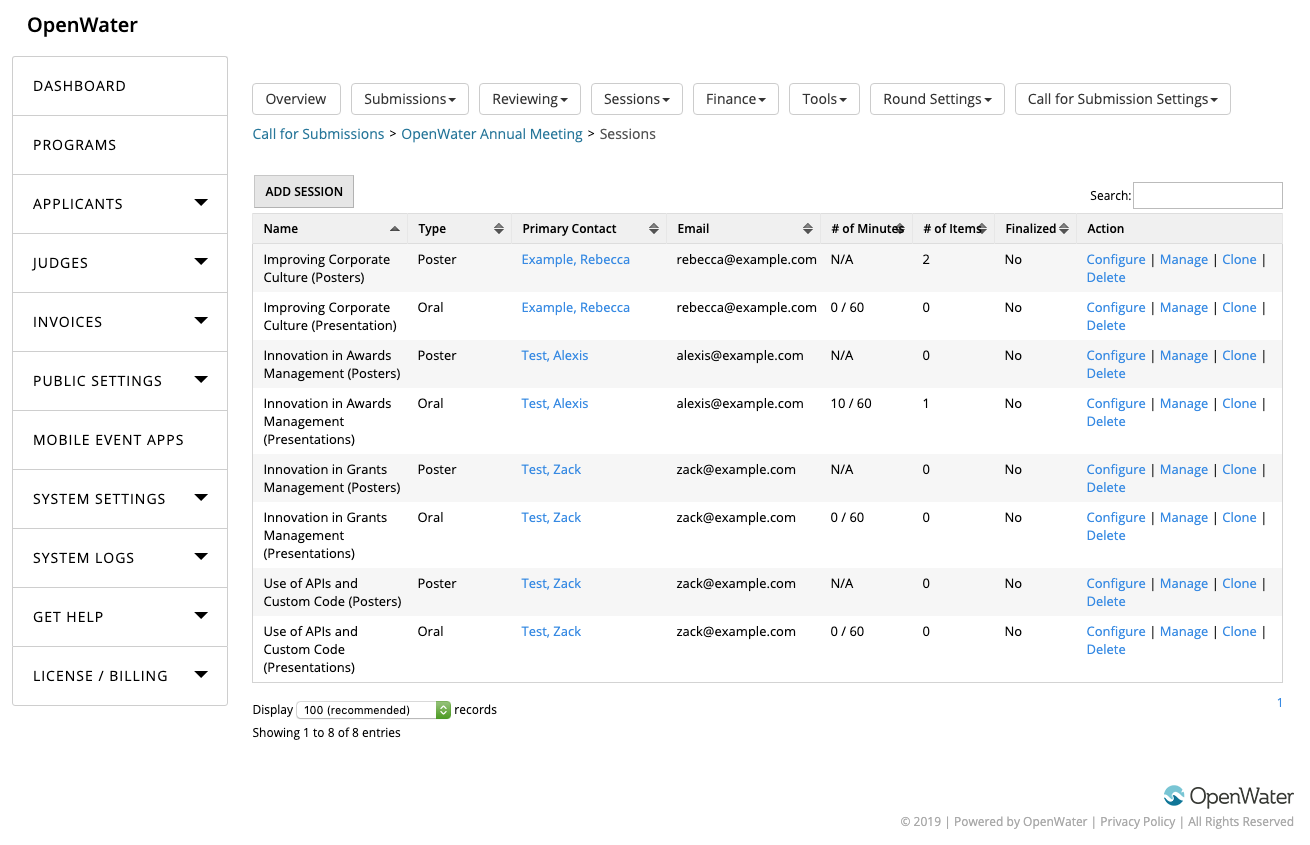 Step 7:
Locations
7.1 You can assign sessions to have days, time slots, rooms, and maps. You can configure this information in Locations found in the Setup section.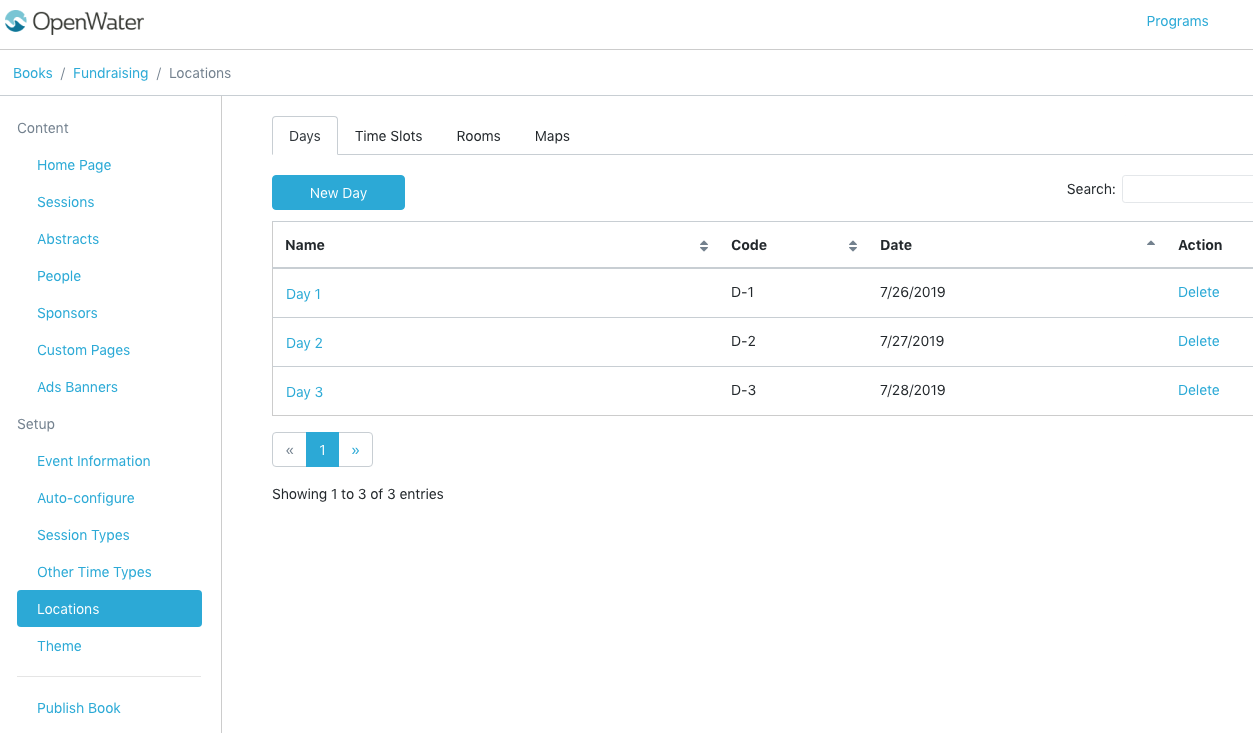 7.2 You can see that from setting up the import all of your information from OpenWater should be populated.
OpenWater: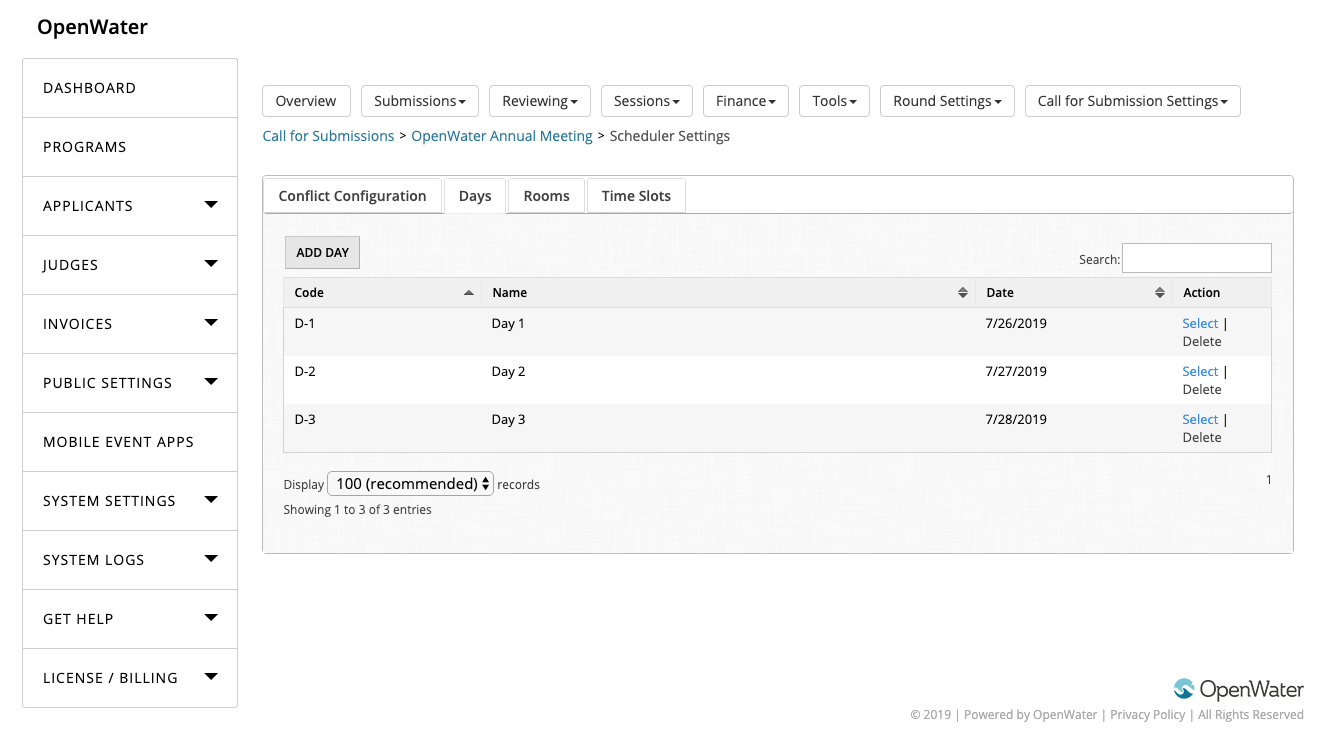 ProgramBook: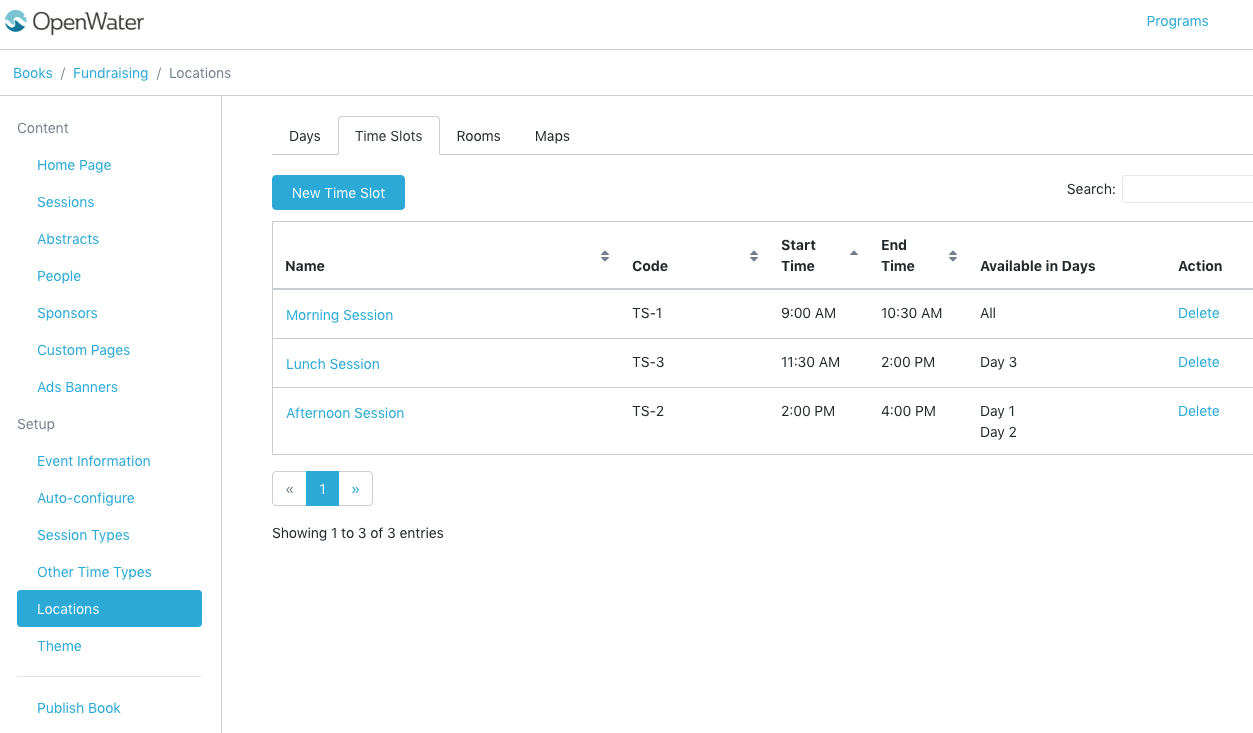 Step 8:
Allow Attendees to View a Floor Plan
8.1 You can add a floor plan by clicking on Locations under the Setup category in the navigation. Click on the Maps tab and then click New Map.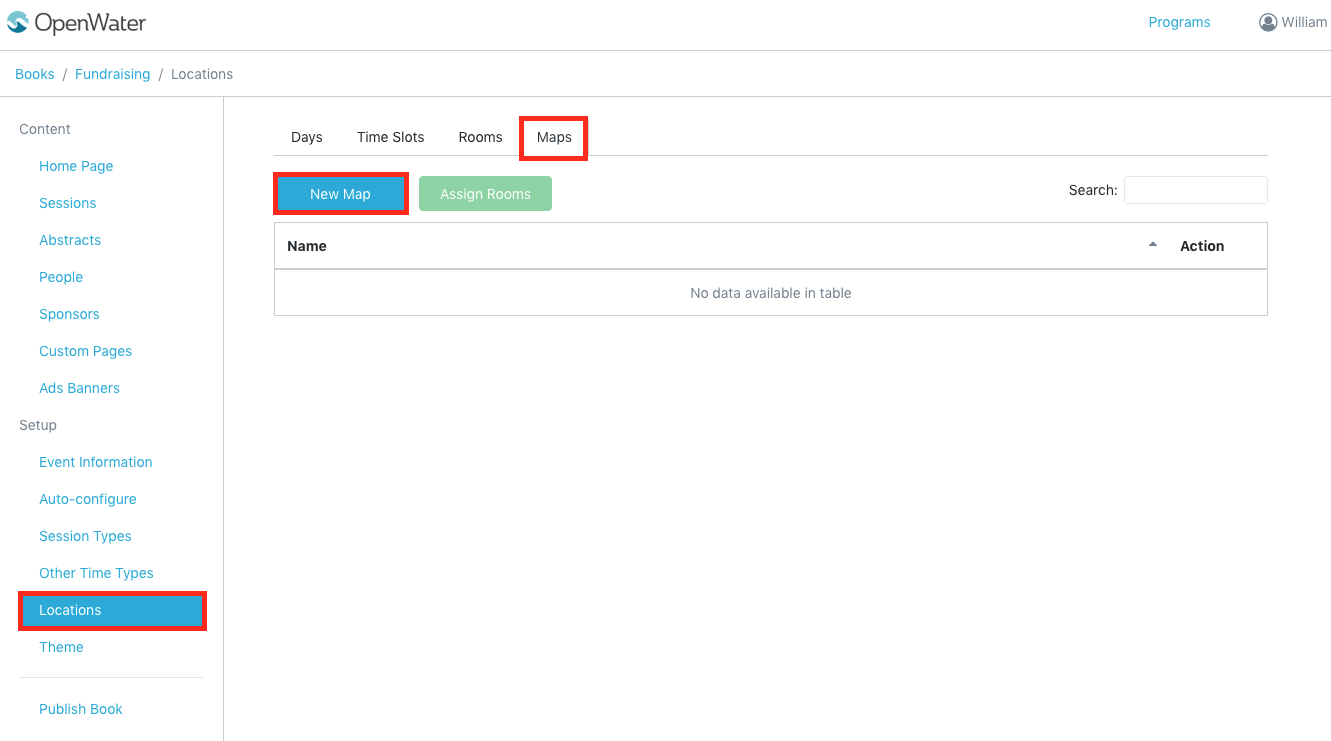 8.2 Give your New Map a nap and upload an image of the floor plan and click Create.
8.3 Now click on Assign Rooms.
You can click on the location icon for each of the rooms available and drop it in the correct room.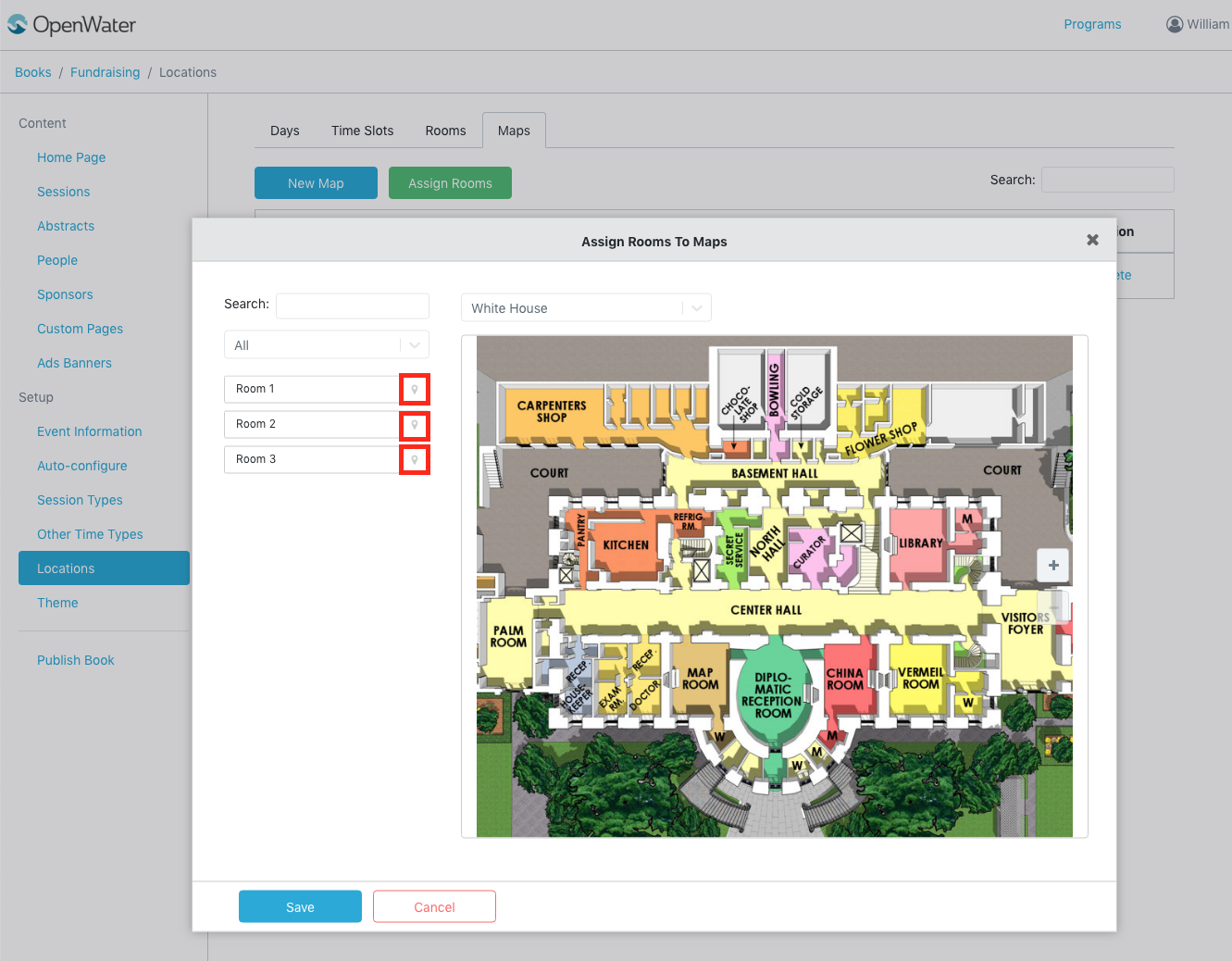 8.4 When done click Save.
Now that your map is configured users can go to your app and click on the hamburger to find the option for Locate me now. Click this and it will show you what Session or Room is near you.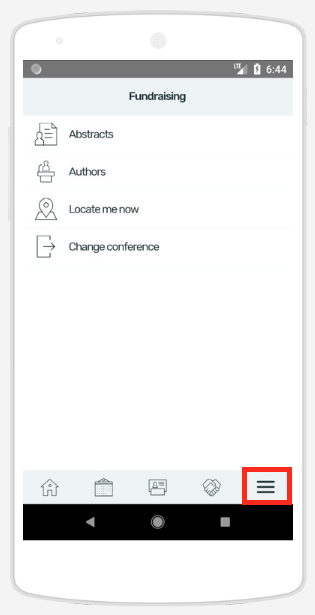 Step 9:
Configure the Theme of your App
9.1 Under the Setup category click Theme. Here you can customize the theme color, icon color, and upload a Book icon.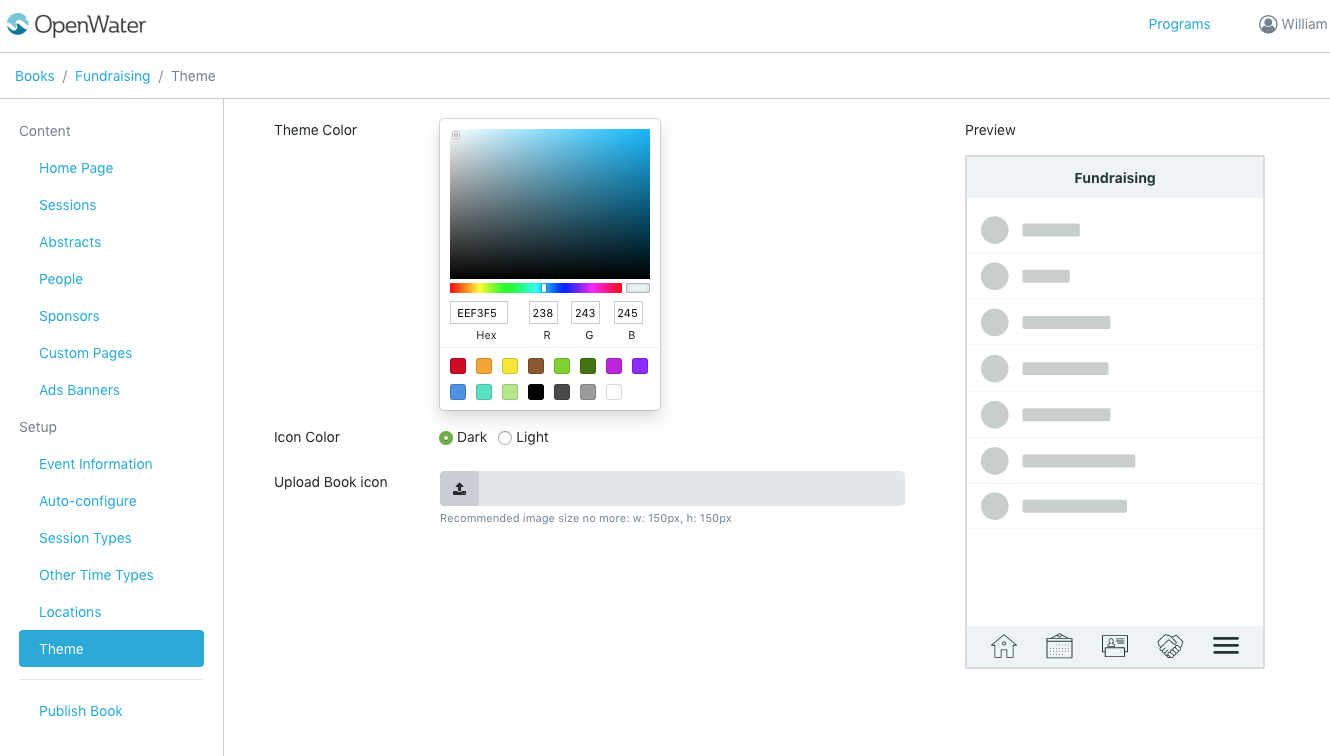 9.2 When you're done click Save.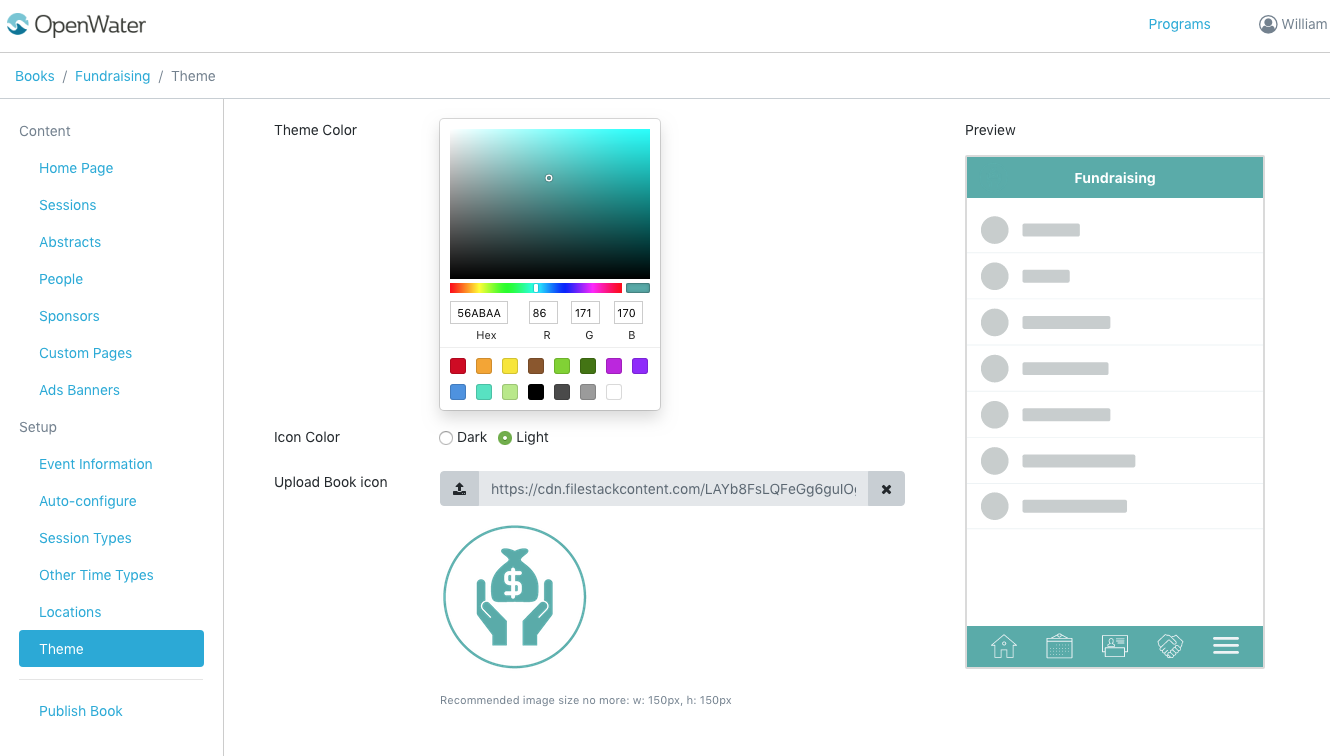 Step 10:
Custom Pages and Content
10.1 You can create your own custom pages and content as needed in your Book. Click on Custom Pages under the Content category.
10.2 Here you will click New Custom page.
Give your page a name and provide the details. You can even use HTML by clicking Source.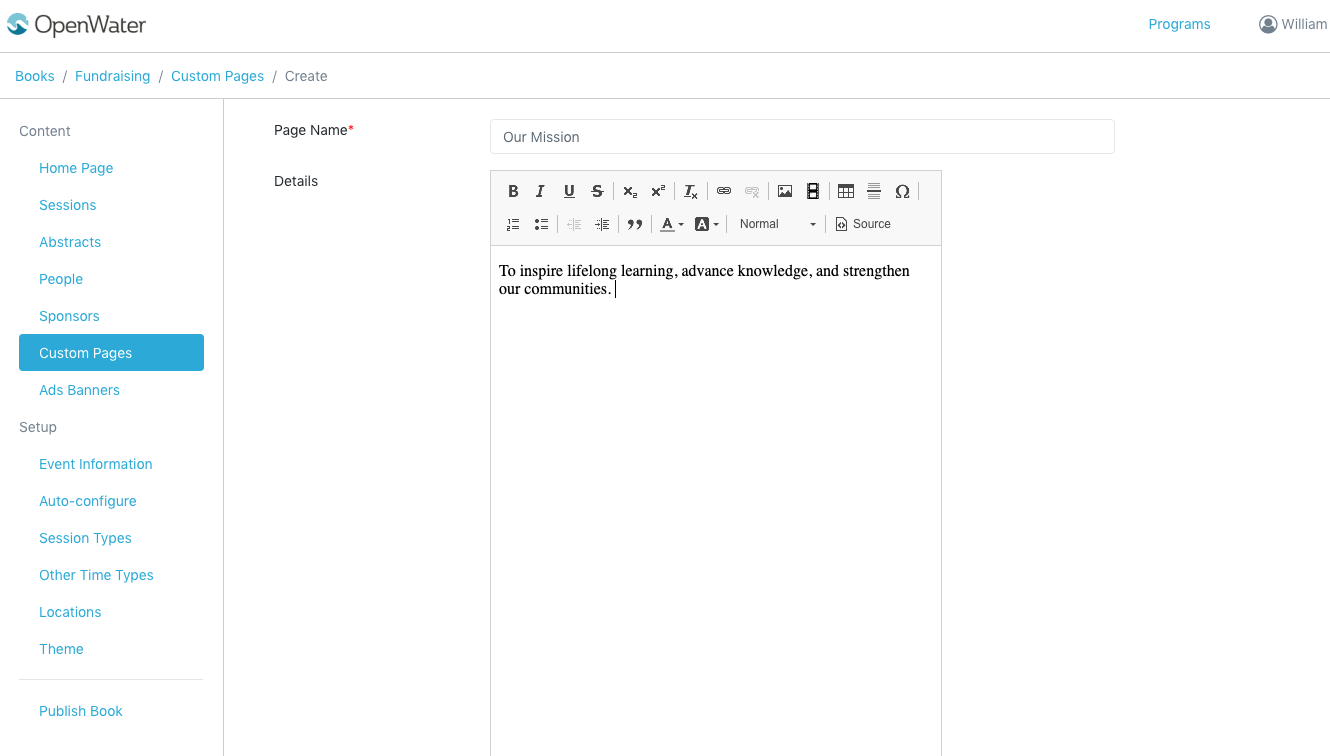 10.3 When ready click Create.
Now in our app you can see our newly created page for Our Mission.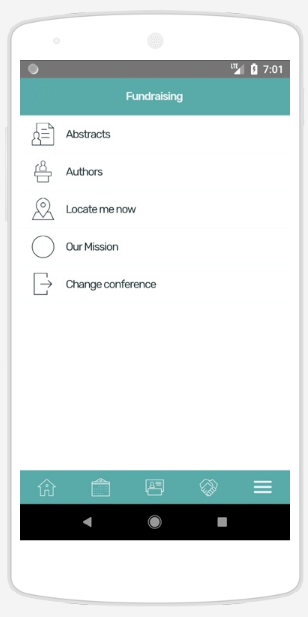 Step 11: Home Page
11.1 In ProgramBook on the left side navigation under the Content section is a link for Home Page. Click this to be able to edit the content that appears to your users when they first open up the app.
Here you can provide any text, images, links, etc. that would be beneficial for the users.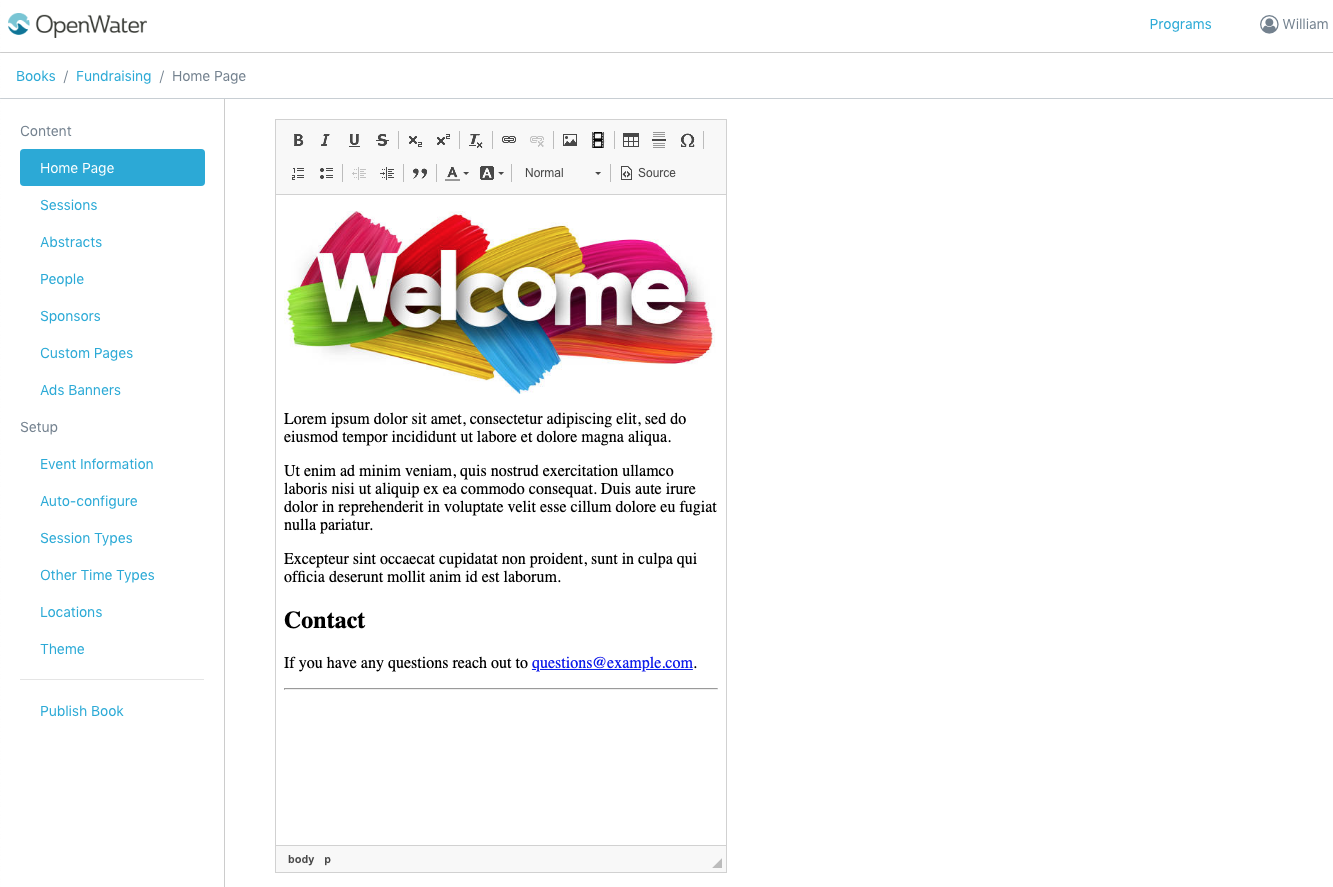 11.2 Keep in mind you can always click Source to get access to the full HTML page to make any necessary content adjustments and/or additions.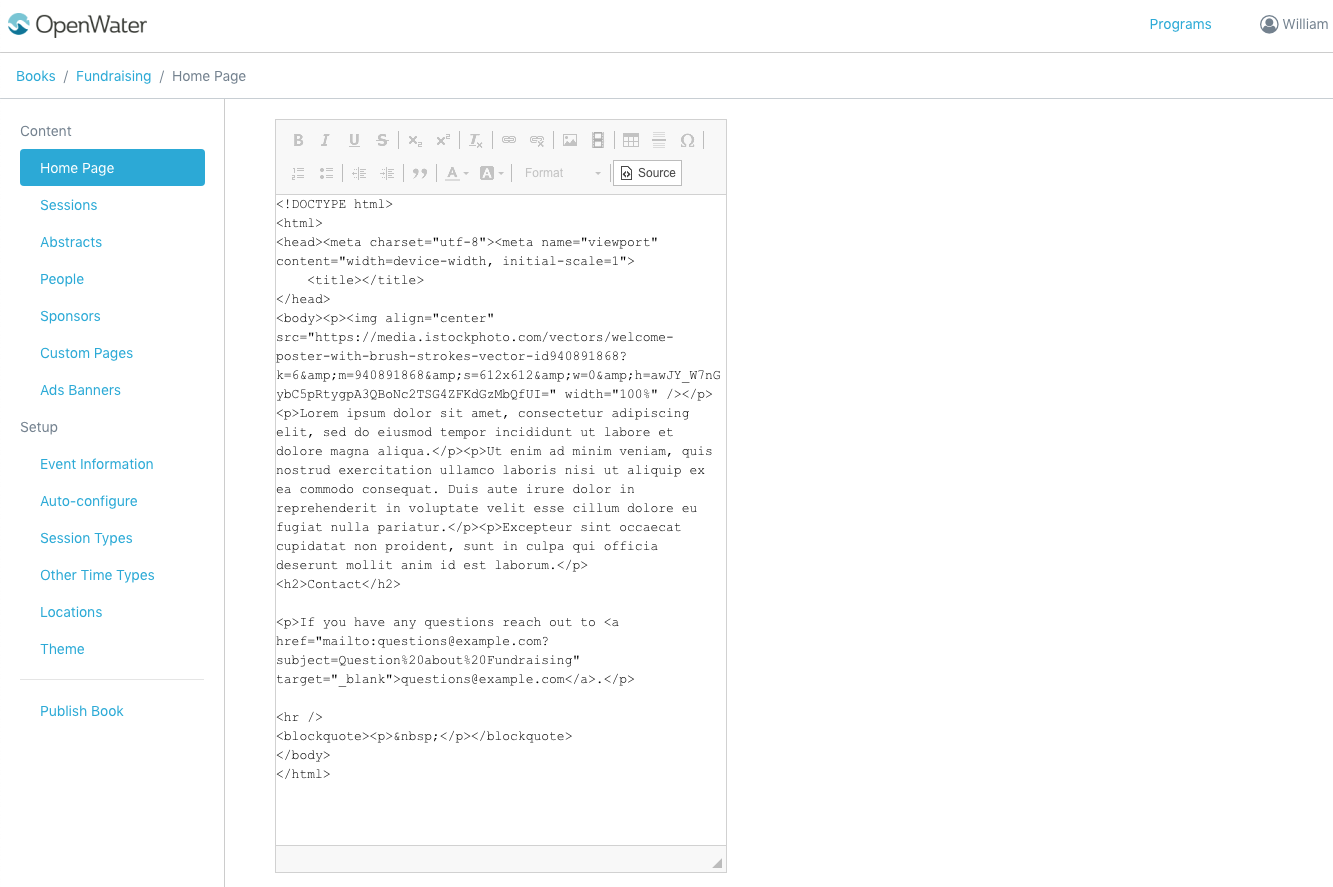 11.3 When ready click Save.
And now you will see this information appears on our app.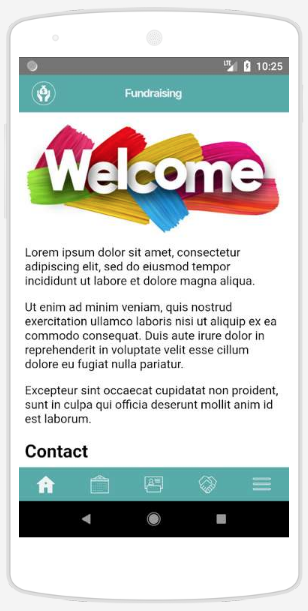 Step 12:
Sell Ad Space
12.1 In ProgramBook you can add ads to your app. To do this click on Ads Banners in the left navigation under the Content category.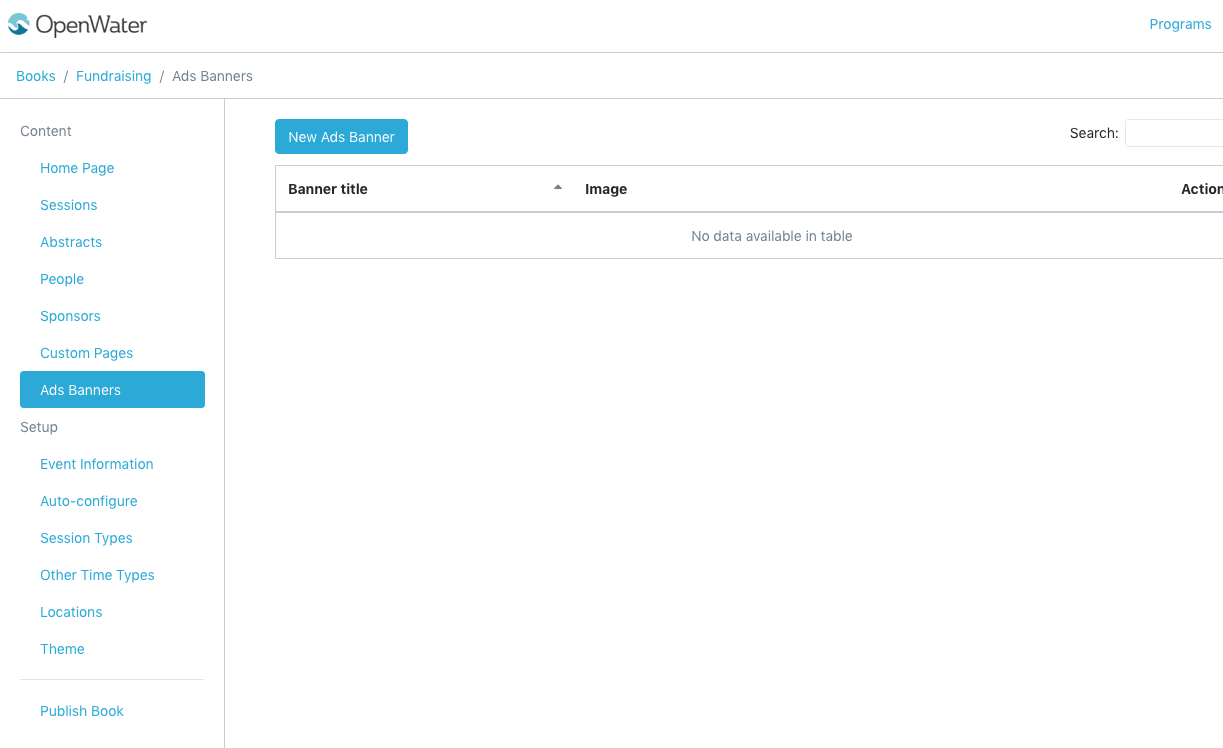 12.2 On this page get started by clicking New Ads Banner.
Next you'll want to give your ad banner a title, weight, and image. The weight can be a useful tool to use if you have multiple advertisements to differentiate between higher tiered advertisements.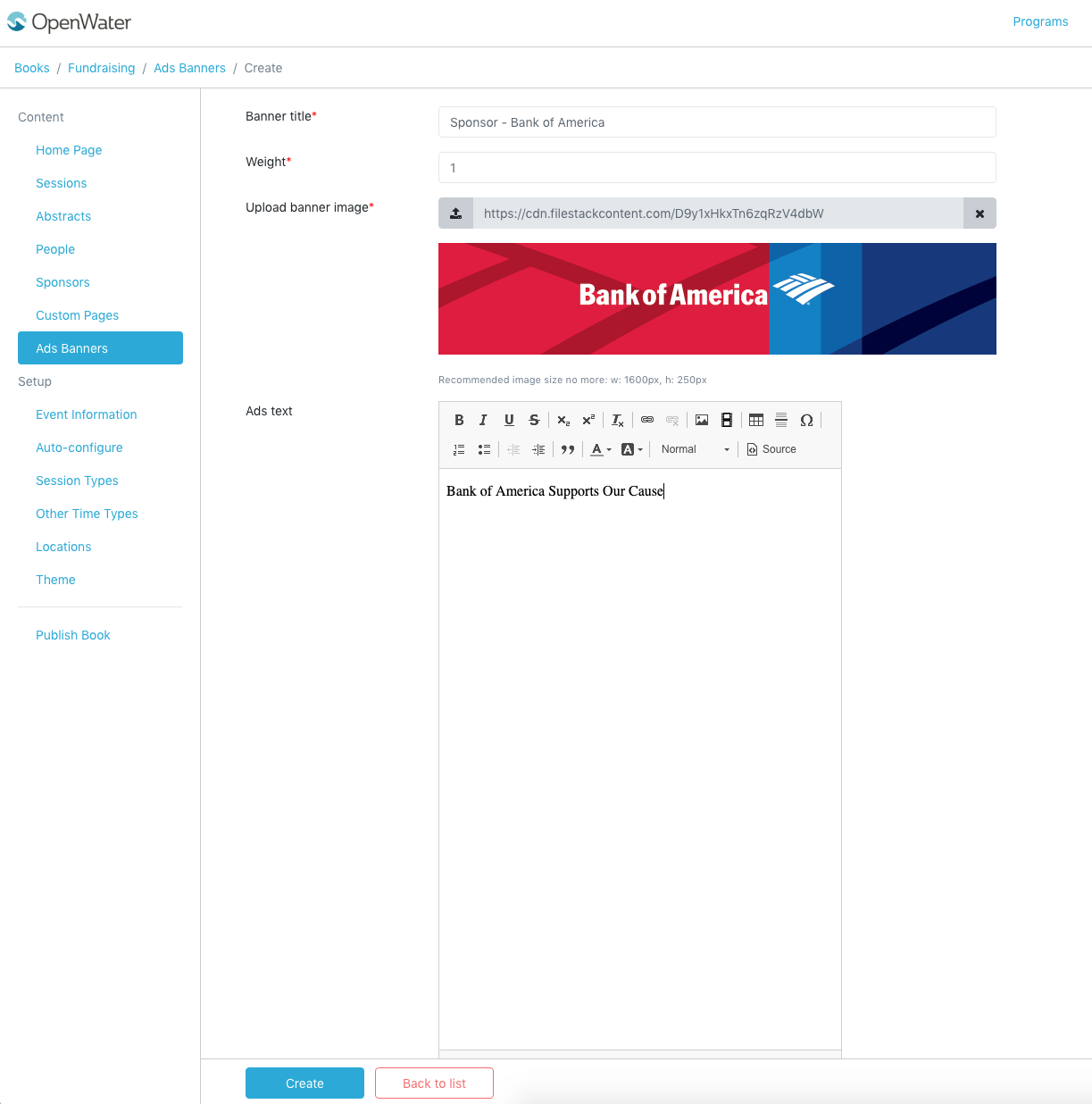 12.3 When ready click Create.
Now we can see our advertisement on our app.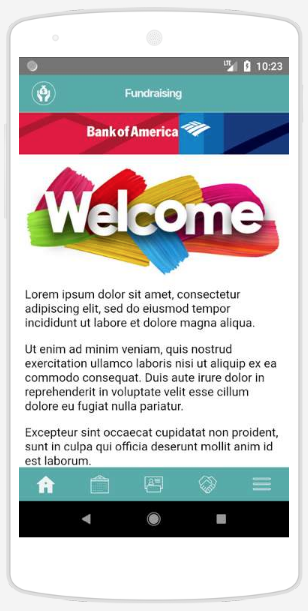 Step 13:
Sponsors
13.1 In addition to advertisements, ProgramBook allows you to list all of your sponsors on a dedicated page within your app.
To create your sponsors in ProgramBook go to Sponsors on the left side navigation under the Content category. Click on New Sponsor.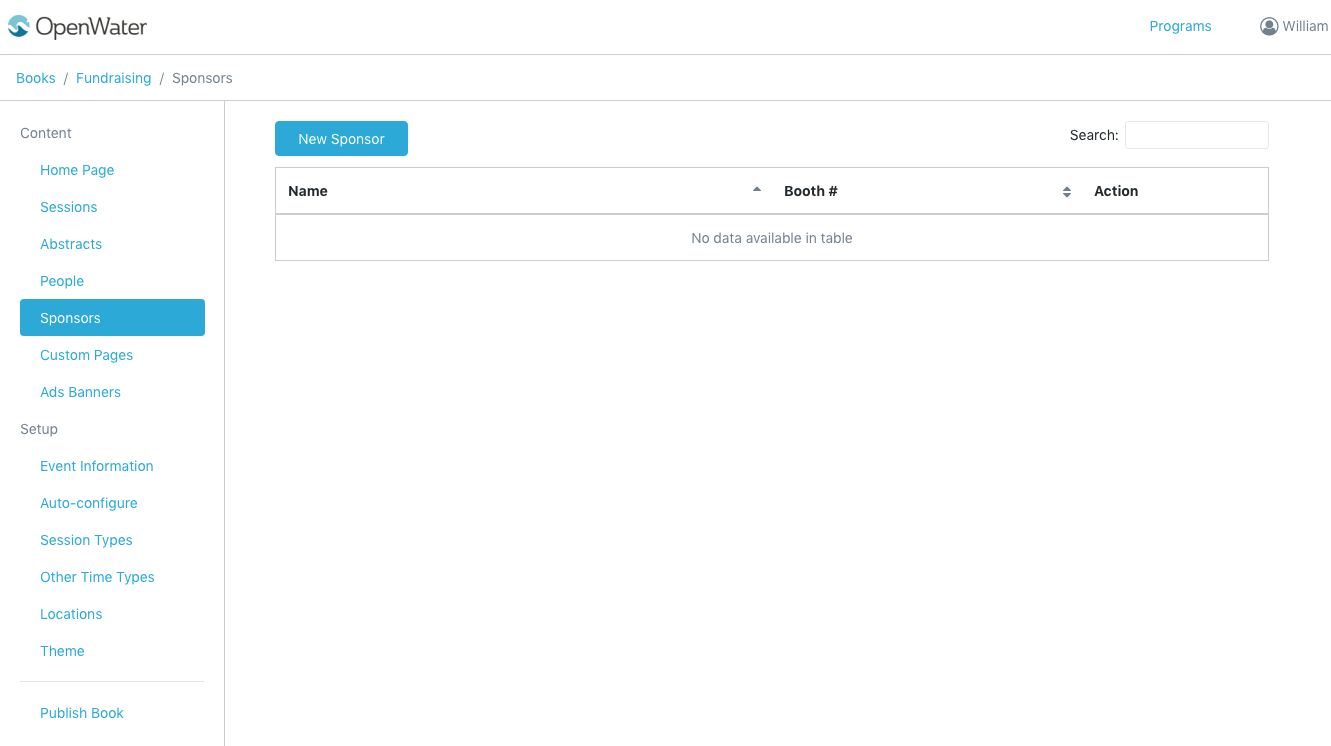 13.2 Give your sponsor a name and provide a booth # (if applicable) and details about the sponsor. When ready click Create.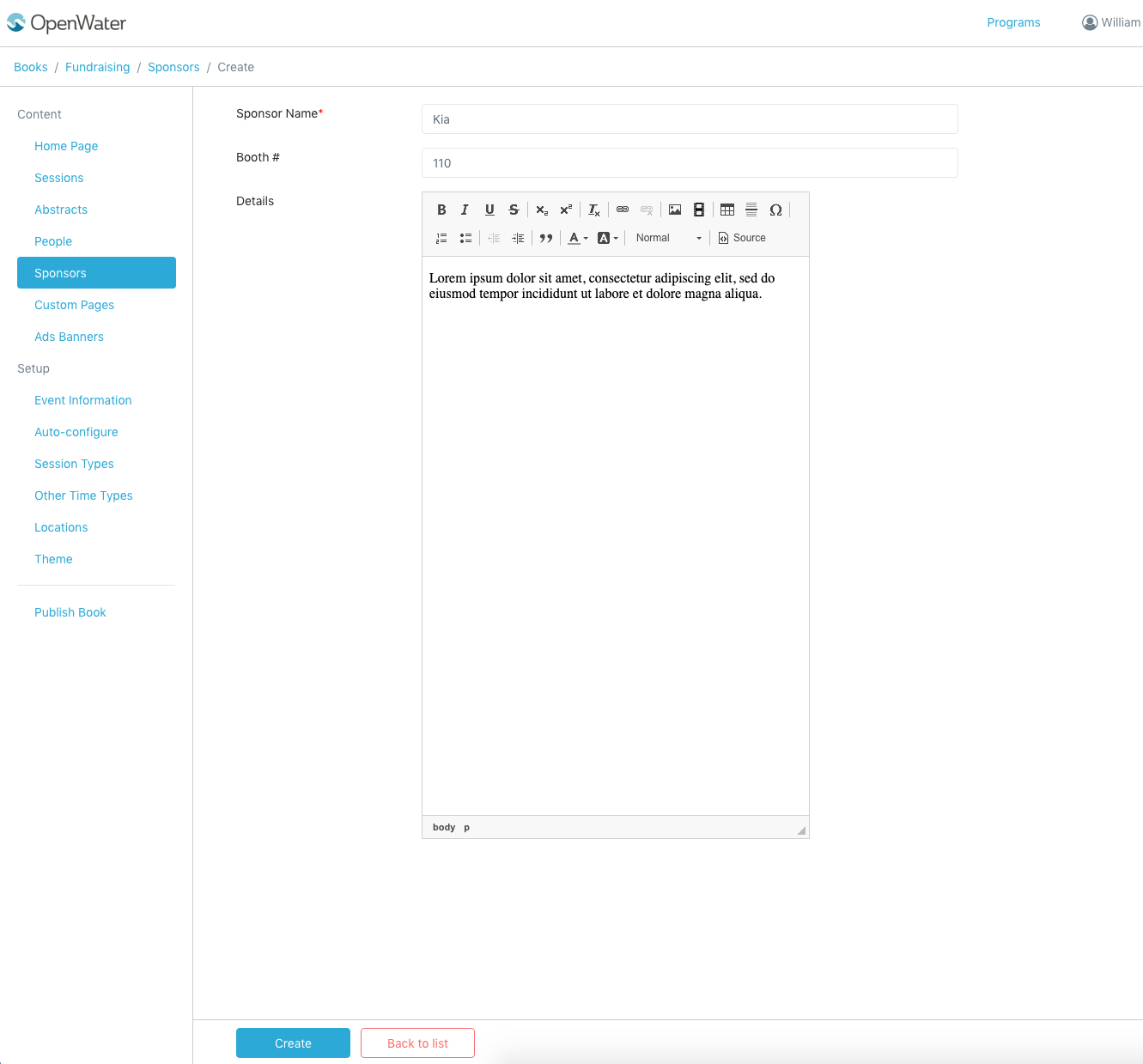 13.3 Now we can all of the sponsors we created in our app on the sponsors page.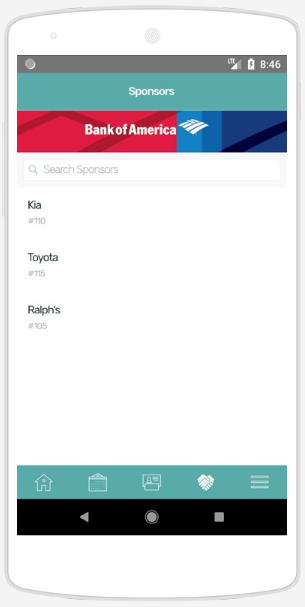 13.4 Once you tap a specific sponsor it will take you to the detailed information about that sponsor.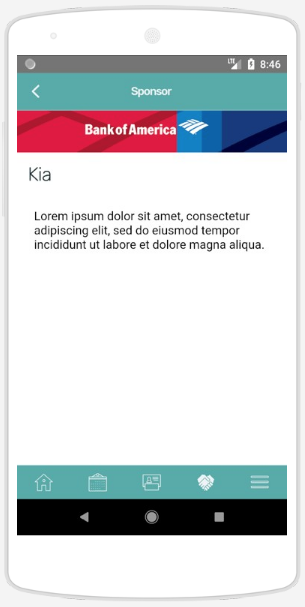 Step 14:
Manually add Sessions, Abstracts and People
14.1 If you have ProgramBook configured to auto-configure you can still manually add sessions, abstracts and people. 
Lets create a new session manually. On the left navigation click Sessions under the Content category.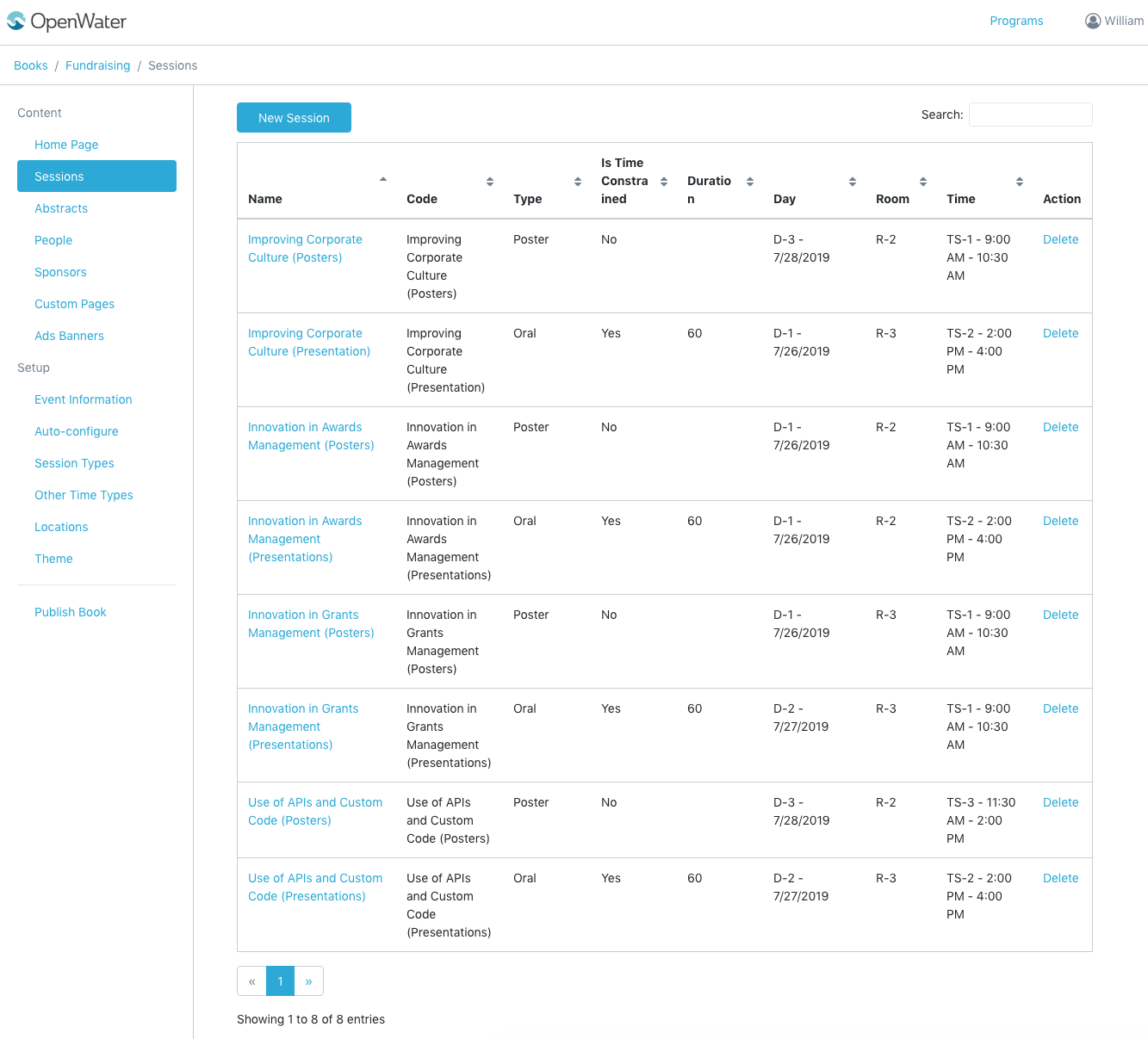 14.2 You will see all of our imported sessions from OpenWater. Click New Session to manually create one.
Give your session a Code, Name, and Type.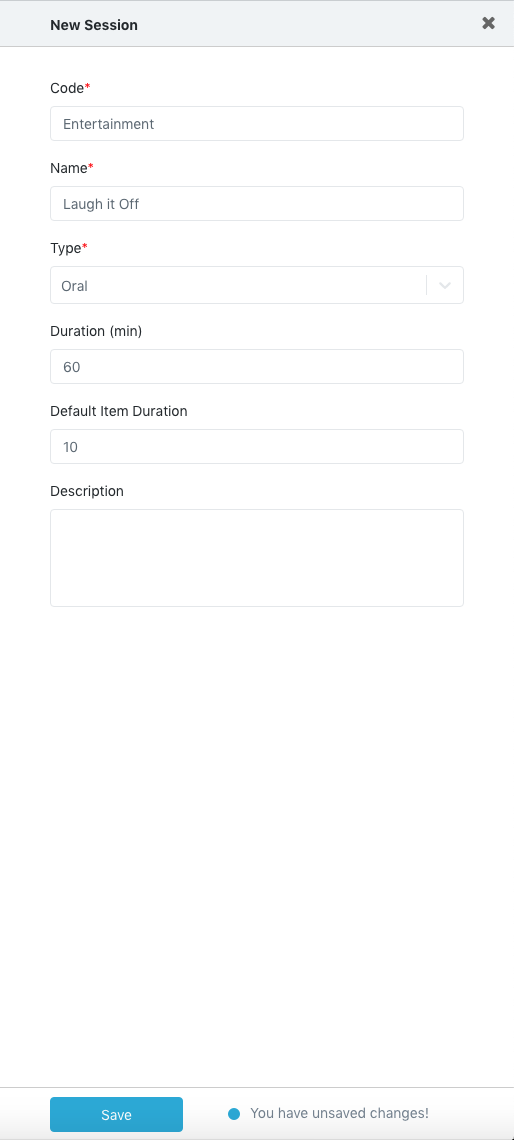 14.3 When ready click Save.
Now you can update the new session by providing it a day, time slot, and room. You can also assign organizers and items.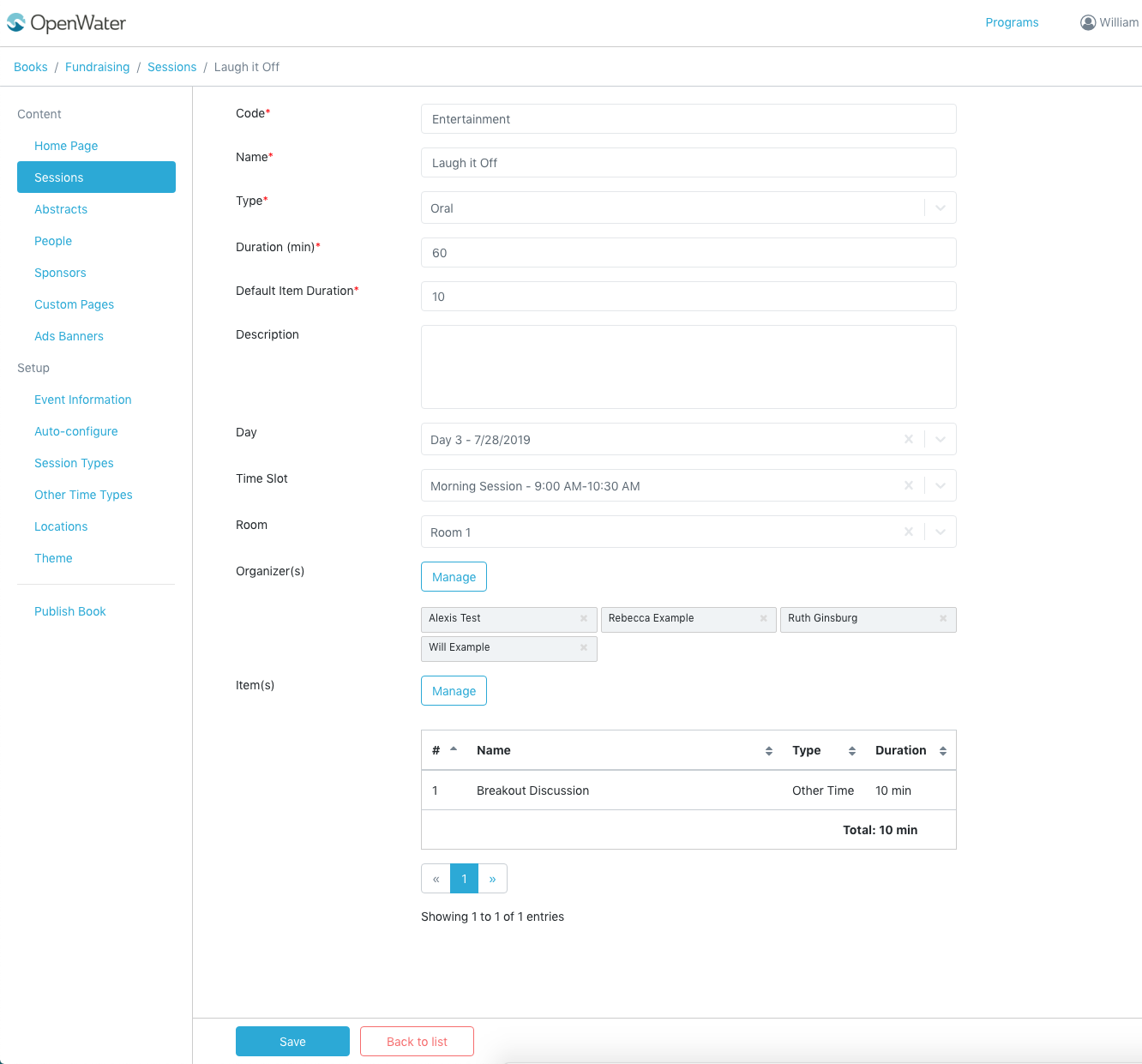 14.4 Now this manually added session appears in our app.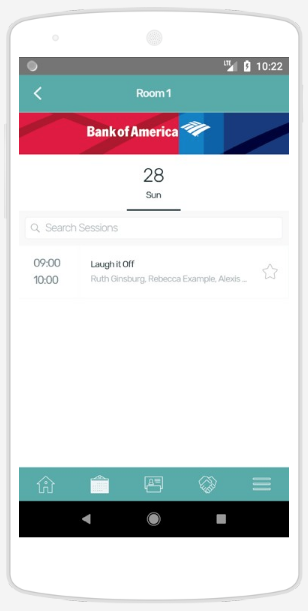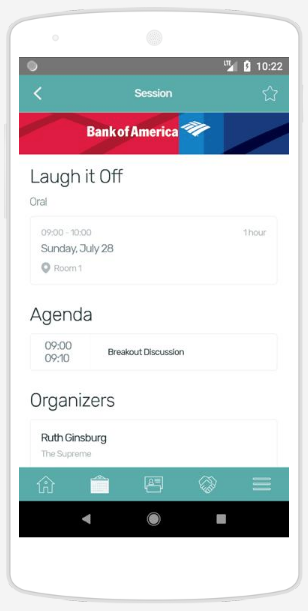 Step 15:
Publishing the Book
15.1 You can always be working in your app to create content and improve it. However, changes are not auto published. You will have to publish to make your changes visible to your users.
Thankfully, publishing your app is very simple. 
In ProgramBook at the very bottom of the left sidebar navigation is Publish Book.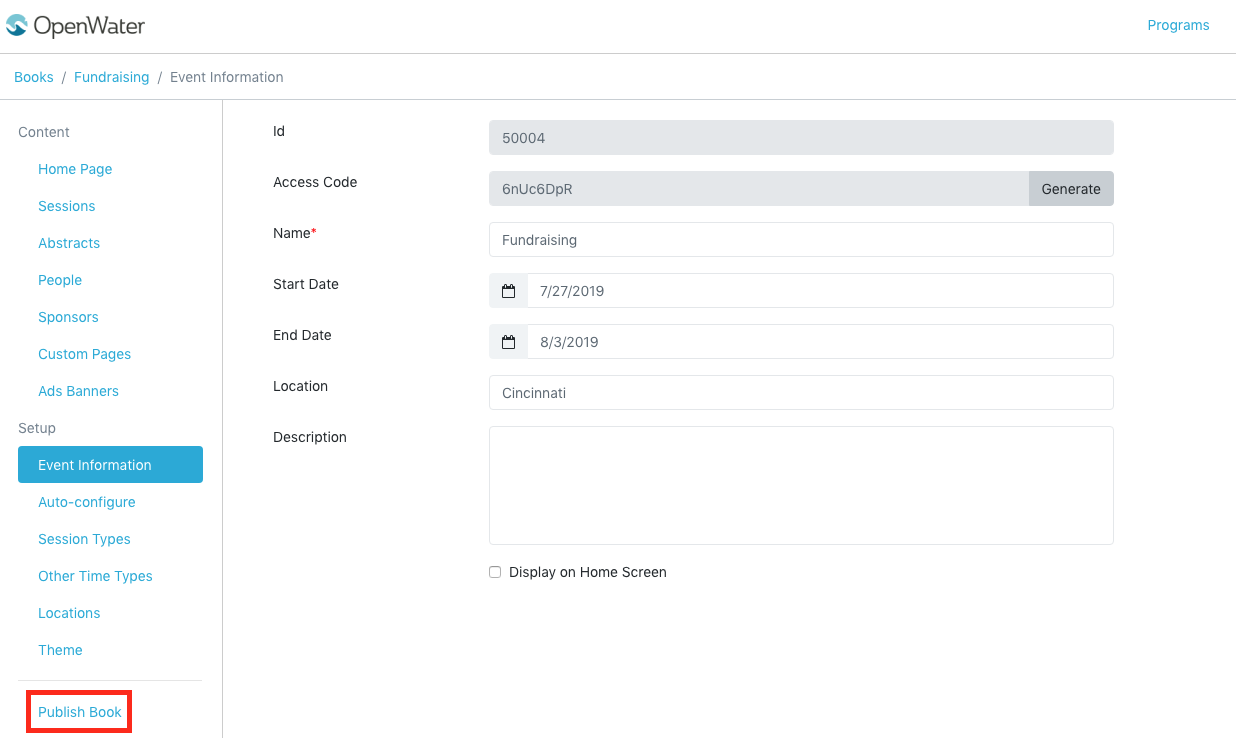 15.2 Here you will see a list of your sessions and any potential errors. As long as everything looks good go ahead and click Publish at the bottom.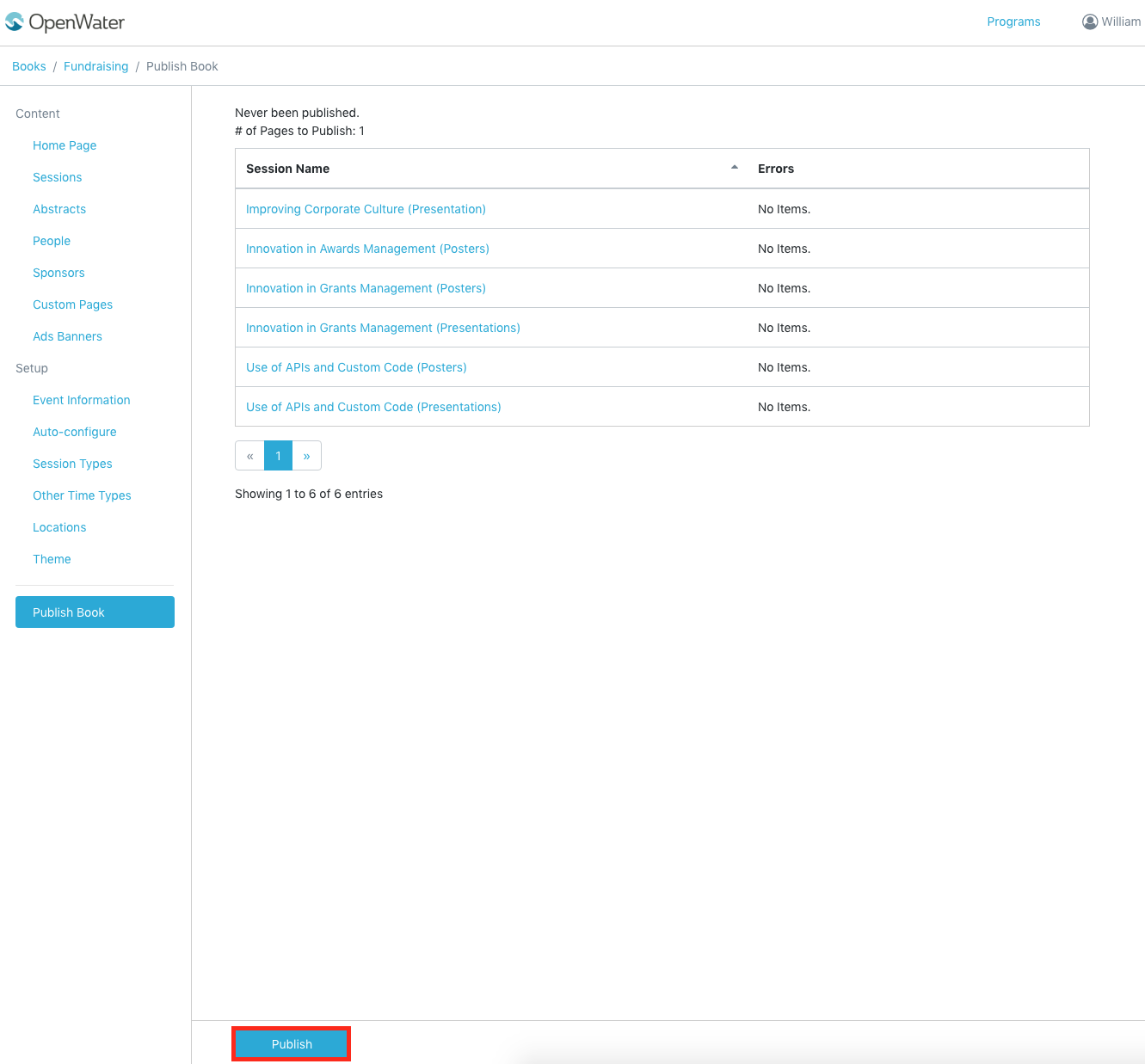 Complete and Continue